CREATING CLEAN COMMUNITIES ONE PROPERTY AT A TIME WHILE SPREADING POSITIVITY. WE ARE NORTHARK.
Commercial Washing Cave Springs, AR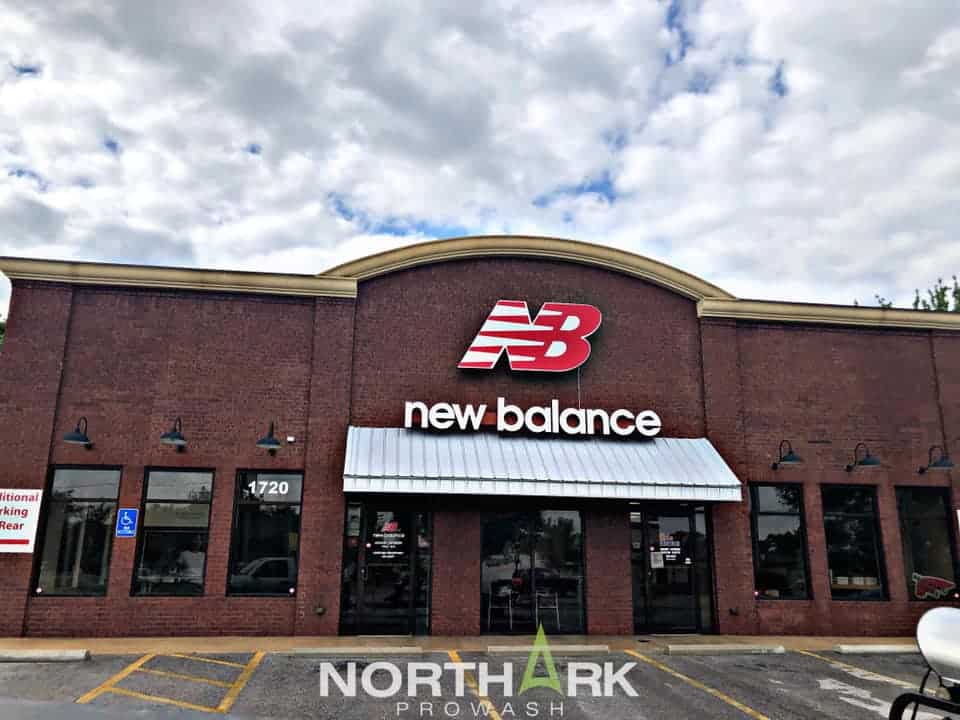 Parking Lot Power Washing Services Cave Springs, AR
Residents Trust
Does your parking lot look unattractive and scattered with marks and stains that distract customers from your business? If so, then let the cleaning experts from NorthArk ProWash LLC provide professional parking lot power washing services for your property. We are a full-service exterior cleaning residential and commercial washing Cave Springs, AR, company. We welcome the chance to take care of your commercial pressure washing and commercial power washing services anytime during the year.
Top-quality commercial pressure washing services can transform the exterior of our business, unlike any other service. Built-up dirt and grime can make your outdoor surfaces look dull and unattractive, but with a professional commercial pressure cleaning service, your property can shine in just a little bit of time. Our team members offer a wide array of outdoor cleaning services, including; commercial building power washing, commercial gutter cleaning, commercial concrete cleaning, and more. If you have outdoor cleaning projects on your list of things to do, please reach out to our enthusiastic and reliable team!
Searching for Cave Springs
Commercial Power Washer Near Me?
When you are looking for a Cave Springs commercial power washer near me, you are sure to find a variety of companies to choose from; however, the dedicated crew from NorthArk ProWash LLC hopes to be the team for you. We are a fully licensed and insured company, and our professionals have many years of experience and training in the outdoor surface cleaning industry. As residents, we enjoy meeting our neighbors and providing commercial pressure washing services that are transformative and helpful for our clients. Our goal is to earn your trust and loyalty with affordable, reliable services that maintain the cleanliness of your outdoor surroundings.
Our team members aim to arrive at your location promptly at your appointment time. We will inspect the area that is to be cleaned and begin working promptly on the project. We know your business needs to stay operational, and we will do our best to keep it out of the way and work efficiently. We do everything we can to work with your schedule because we know you are busy and need to have outdoor cleaning services performed at the best time for your company operations. We work closely with clients to determine your needs and complete the cleaning projects that will benefit your business.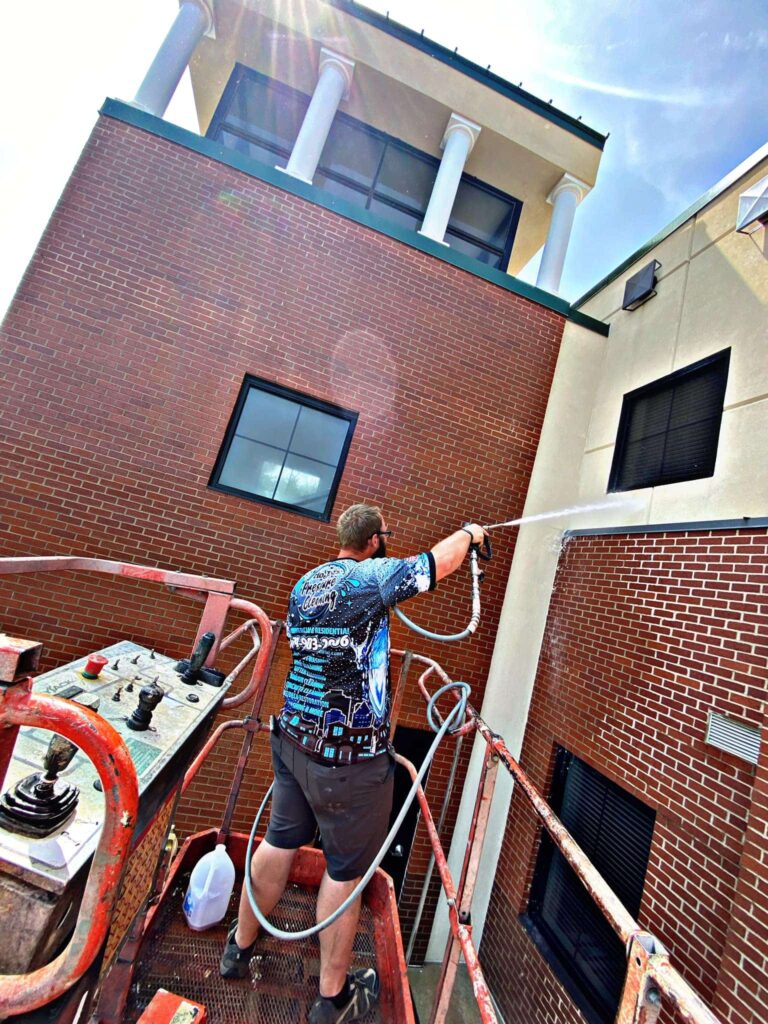 We hired *COMPANY NAME* for *SERVICE* and couldn't be happier with their service! From start to completion they were professional, on time, friendly, and were a pleasure to work with.
We couldn't be happier after the *SERVICE* service from *COMPANY NAME*. We will definitely be hiring them again in the future.
*COMPANY NAME* did an amazing job on our home. We would definitely recommend this company to anyone looking for professional *SERVICE*!
I highly recommend *COMPANY* to anyone who's looking for *SERVICE*. They were very thorough and reasonably priced as well!

CREATING CLEAN COMMUNITIES ONE PROPERTY AT A TIME WHILE SPREADING POSITIVITY. WE ARE NORTHARK.
Expert Commercial Exterior Cleaning Services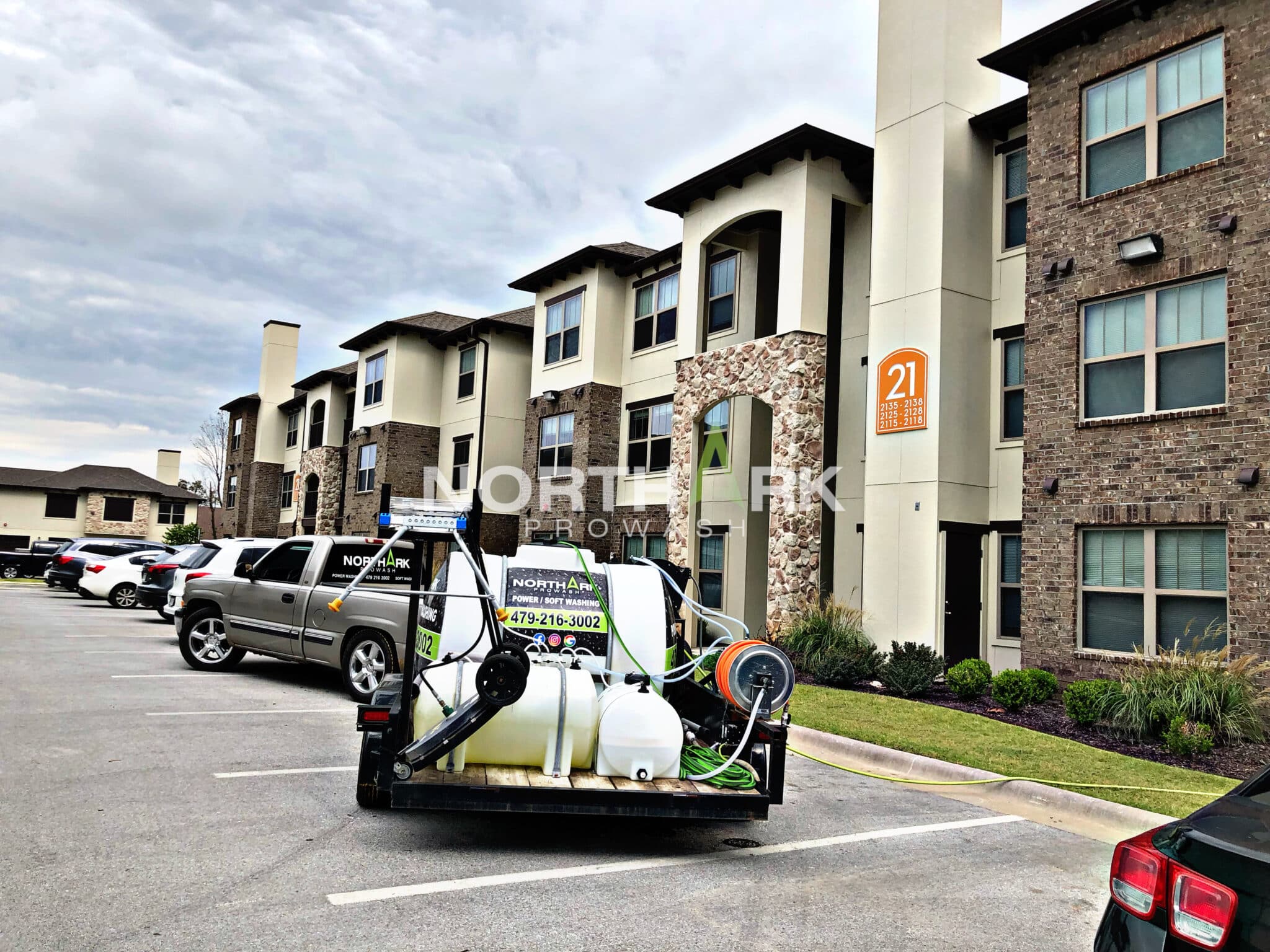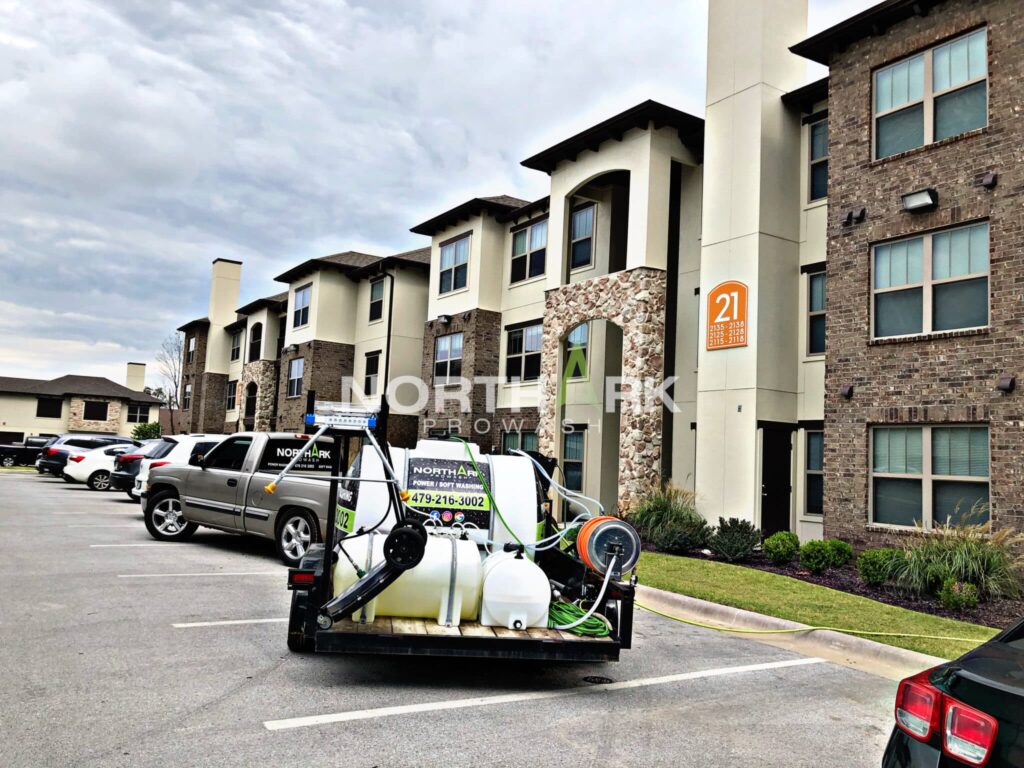 Top-Rated Commercial Building Power Washing
in Cave Springs, AR
Over time, streaks and stains of dirt, pollen, mold, mildew, algae, insect nests, and other substances can accumulate on the outside surfaces around your property. Through the all-encompassing commercial pressure washing and commercial power washing services we provide, we can rid your surfaces of unsightly substances and restore the beauty of your place. Routine commercial pressure cleaning services will improve the air quality around your area, protect your building supplies, and enhance the value of your property, too.
Cave Springs is a beautiful and welcoming community that is located in Benton County. This section of northwest Arkansas is an attractive area known for being a nice place to live or visit. Since the town was incorporated in 1910, the population has grown steadily and is now home to around 6,000 residents. The community has much to offer, including; many attractive parks and outdoor recreational facilities, golf courses, tennis courts, restaurants, retail shops, and family-friendly entertainment venues. The Fast Lane Entertainment venue is a great place to take the family and enjoy a few bowling games.
Some residents enjoy going to nearby Bentonville and taking in the sights of this lovely community. In Bentonville, you can explore the Compton Gardens & Arboretum, the Crystal Bridges Museum of American Art, or the Walmart Museum. All are fun and interesting places to visit, and the drive from Cave Springs to Bentonville is pleasant.
Call Today for
Commercial Power Washing in Cave Springs, AR
If you are a commercial property owner or business manager in the Cave Springs community and you have outdoor surface cleaning projects on your list, then please reach out to the full-service commercial pressure washing company, NorthArk ProWash LLC. Our talented team has access to top-of-the-line equipment and cleaning supplies, enabling us to provide reliable and transformative cleaning services. We also have the advanced training needed to clean various surfaces while protecting your property, as well.
The team members from NorthArk ProWash LLC are excited to hear from you and learn about the pressure cleaning projects you need to complete. We are glad to provide details about our cleaning services, offer free estimates, and discuss scheduling with you, too. Our goal is to earn your trust through attentive customer service, effective results, and dependable professionalism. We hope to work with you now and for all your future projects. As always, we look forward to hearing from you and working with you anytime during the year!